Long Haul vs Short Haul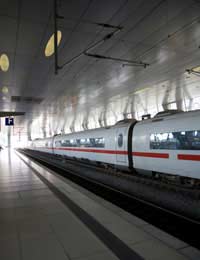 When it comes to holiday destinations, the greenest ones are those closest to home. Persuading people to take more environmentally friendly holidays in Britain is not so easy, however, especially when the lure of France and Italy is so strong and the price of short-haul flights is so low.
The cost of jumping on a plane and jetting off to European destinations is so appealing these days that it has become a year-round activity. There is no need to wait until the traditional summer holiday fortnight, as a city-break to Prague or Amsterdam can be fitted into a weekend. Alternative, and greener, modes of transport such as trains and ferries are too slow to meet the demands of the city-break fanatics, and in most instances the jet-set will get to their destination cheaper too.
The price of long-haul flights is falling too. As recently as 20 years ago, destinations like America and Australia were reserved for the privileged few Brits who could afford it. Now a good proportion of the UK population can treat themselves to holidays in all the far-flung corners of the globe. There is even a rapidly-growing market in long-haul short breaks. People are spending long weekends in New York, Dubai, Bangkok, Beijing and Hong Kong.
Carbon Emissions Rocketing
This is all bad news for the environment. Air travel's growth is making a disproportionate contribution to climate change. Exhaust emissions of greenhouse gases from jet engines are not only considerable - they go straight into the stratosphere and so affect the climate much quicker than emissions at ground level.
An Oxford University report has already warned that the price of short-haul flights will have to increase if the UK is going to achieve its target on carbon emissions. The government aims to cut carbon dioxide emissions by 60 per cent by 2050, but the university report fears the boom in low-cost flights could threaten that.
Britain is a key player in air transport, with an incredible 20 per cent of all the world's air passengers either taking off or landing at UK airports. The reality is that, although most people are aware of the environmental impact of aircraft, many will continue to fly until cost makes it prohibitive or it is outlawed by legislation.
Stay Closer to Home
If a holiday in Britain does not appeal, try to pick a destination in northern Europe and go by train or ferry. If travelling further afield, a short-haul flight is more environmentally friendly than a long haul one, so give the Mediterranean a try instead of New Delhi, Sydney or Chicago.
A return flight to New York or Dubai generates 3.5 tonnes of carbon emissions, while Hong Kong and Cape Town are 6.1 tonnes and Sydney 10.8 tonnes. Choose the Mediterranean instead, and a return flight to Athens will generate 1.4 tonnes of carbon. A short hop to Amsterdam or Paris and back generates only 0.3 tonnes, while Madrid, Venice and Barcelona are 0.7 tonnes and Rome is 0.9 tonnes, so while the environmental cost of long-haul flights is considerable, it is easy to see how a few city breaks around Europe can quickly add up to be just as damaging.
You might also like...