Eco Friendly Holidays: Camping to Cottages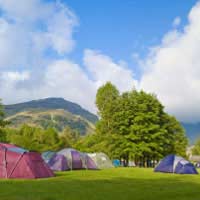 More and more people are now turning to eco-friendly holidays as they look for new ways to reduce their carbon footprint.
It's well known that jetting off to sunnier climes to recharge your batteries is responsible for major carbon emissions which are accelerating global warming and climate change.
But if you have your heart set on a beachfront villa in Spain, you do have the option of paying to offset the carbon involved. (This costs from around £2.50 for a short flight to around £7.50 for a long haul flight.)
Stay in the UK
However, if you'd rather avoid air travel completely, eco-holidays in the UK are becoming fairly easy to find. You could stay at an eco-friendly campsite or cottage. Children, and often pets, are welcome and if you choose the campsite option, they'll also get a taste of the great outdoors.
Make sure you choose a destination that will allow you to use your vehicle as little as possible (some places will give you a discount on the holiday price if you travel there by public transport or bicycle.)
Eco-measures
If you choose an eco-friendly venue, you'll get the chance to experience a variety of environmental measures. Depending on whether it's camping or bricks and mortar accommodation, you can expect:
To recycle everything you use
Use rainwater for washing up
Solar water heating
Sensor lighting
Rainwater flushed toilets
Solar powered showers
Locally produced food such as fruit and vegetables on offer (This supports local businesses and cuts down on food miles)
Conservation Holidays
The National Trust and charities such as the BTCV offer some great conservation holidays in the UK and overseas. For example, you could take part in a Cornish beach sweep, enjoy an orchard management and restoration break in Somerset or even take part in an olive harvest in Italy.
Prices depend on the type of activity but most holidays get booked very quickly so you need to plan ahead.
Alternative to a Tent
If you like the idea of camping in principle – but hate not being able to stand up in your tent or prefer a bigger living space – then why not consider staying in a Yurt?
This is the new alternative to tent living. The Nomadic Mongolian yurt is a circular shelter made from sustainable bamboo or hand crafted oak.
Yurts come in many different sizes to accommodate couples, families and even large groups of friends. Yurts available for hire are heavy, making them semi-permanent but you could invest in your own lighter Yurt to take with you on holidays.
Plant a Tree
A carbon neutral holiday is a good way to reduce your carbon footprint. There are many carbon neutral cottages for rent throughout Britain and often you get the opportunity to plant an oak or specimen tree.
(Planting a tree is a fantastic way to offset the carbon footprint of your holiday as trees soak up carbon dioxide but it can take up to 100 years before a tree is large enough to soak up good amounts of C02, so start planting now!)
Other Options
If you're a keen cyclist or you don't want to waste fuel travelling to your holiday destination, why not cycle all or most of the way? You could always split the journey up with a train ride if it's too far to pedal!
But don't make the mistake of thinking you have to drive for hundreds of miles to a holiday destination. Often, people have lived in a region for many years but never visited some of its tourist spots.
Budget Breaks
Commercial eco-friendly holidays can be expensive and a cheap alternative is to simply borrow a tent from a friend or relative and find your own campsite within a few miles of home.
You'll save cash and carbon by travelling only a short distance and campsite prices can be as low as £7-£10 per night depending on the facilities available - so a family break of up to a week could come in at under £100 including local travel.
Of course, as anyone will be quick to tell you when you boast about your back-to-nature holiday, the best way to avoid carbon emissions is a "staycation" – where you don't leave home at all – but where's the fun in that?
You might also like...