Carbon Neutral Car Insurance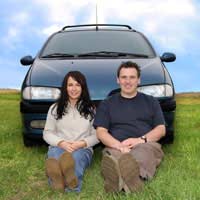 With road traffic said to be responsible for around 25% of the UK's total annual carbon emissions, any attempt to lessen the impact of all that driving has got to be welcome. While there certainly are many things we can all do to help minimise our own car's carbon footprint – such as proper tyre inflation, regular servicing and watching our fuel economy – a new approach to insurance could be poised to offer one of the best ways yet.
Carbon neutral car insurance is a fairly novel entrant into the heavily competitive world of financial services, but with unparalleled instant green-appeal as its unique selling point, it could well be the start of a trend that is destined to grow.
Cars and Carbon Offsets
At its core, carbon neutral car insurance draws on a well-established idea – carbon offsetting – and while we have all become very well acquainted with the concept when it comes to air travel, it is rather less readily thought of as an eco-tool for motorists. In many ways, however, extending it from wings to wheels represents the next logical step in our generalised move towards the much-heralded low-carbon economy. After all, CO2 is CO2, no matter which particular form of fossil fuel released it into the atmosphere.
The now-familiar mechanism behind the whole offsetting idea involves making a payment based on how much carbon dioxide your activities create, to enable an equivalent amount to be captured, elsewhere, on your behalf – in effect cancelling out your carbon debt.
Early attempts were generally fairly unsophisticated and often depended on tree-planting. Although many such schemes were genuine efforts made by sincere operators, unfortunately the lack of regulation and accountability did leave the way open for a few unscrupulous individuals to make quick – and largely fraudulent – money. Inevitably this damaged the idea's reputation for a while.
The latest generation of carbon offsetting projects are a quite different proposition entirely – the UK government having recently led the way to establish appropriate standards and guidelines for the industry.
When it comes to carbon neutral insurance, the portfolio of offsetting schemes is broad and varied, ranging from energy efficiency campaigns in the Caribbean to long-term sustainable forestry initiatives back home in the UK. Others include work to promote renewable energy in rural India and Mongolia along with methane capturing and utilisation projects which take gas from coal mines and landfill sites and use it to generate power.
How Does It Work?
The whole thing is surprisingly simple; for every 1kg of emissions you car-use generates in a year – and the average family car typically produces 1 to 2 kg annually – you pay a fee which is then used to fund a suitable climate-friendly project to capture the same amount for you.
For it to work, you obviously need to know how much CO2 you're responsible for in the first place – which sounds a bit daunting until you realise that you give your current insurer most of the information needed every time you get a quote. Make, model, engine size and annual mileage, coupled with readily available figures for fuel consumption and the manufacturers data on emissions enable the necessary calculations to be made – so you get a competitive price and a simple way to help the environment in a single package.
Given that no matter how green we might want to be, there are always going to be times when most of us will need to drive. Since we all need insurance to take our cars on the road, by opting for this new kind of approach we can offset the unavoidable emissions of car journeys – just like we do our long-haul flights – and make these trips carbon neutral too.
You might also like...