New Build Grants and Funds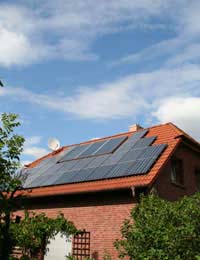 New Homes can be Ideal
When buying a house it is extremely rare to find one that ticks all the boxes. More often than not it is necessary to compromise, whether it is on the price, location or number of rooms. One way to get the ideal home is to start from scratch, and this can be profitable too. The combined cost of land purchase, building materials and labour is typically less than buying an equivalent pre-built property. Research suggests self-built homes can be worth as much as 30 per cent more than the land and build costs the moment they are put on the market.
There are other advantages too, particularly if the new build is environmentally friendly. New zero-carbon homes worth up to £500,000 are exempt from stamp duty until 2012, and if the home generates more power than it needs the excess energy can be sold back to suppliers without incurring income tax or capital gains tax. Grants for microgenerators, central heating and insulation make the prospect even more appealing, especially with value added tax cut from 17.5 per cent to five per cent on a range of energy-saving products.
Take Advantage of Grants
Most local authorities offer grants and incentives to residents installing energy-efficient measures in their homes, such as loft insulation, cavity wall insulation or a new boiler. In addition, the biggest energy suppliers are obliged to meet targets under the Government's Energy Efficiency Commitment and typically have a range of offers as a result. Government funds provide up to £2,700 to households on certain benefits, although the eligibility criteria differ between countries. The funds are called Warm Front in England, Warm Deal and the Central Heating Programme in Scotland, Warm Homes in Northern Ireland and the Home Energy Efficiency Scheme in Wales.
Government grants of up to £2,500 per UK household are available for the installation of microgeneration technologies through the Department for Business Enterprise and Regulatory Reform's Low Carbon Buildings Programme. Grants can contribute to the cost of installing a certified product by a certified installer and the technologies supported include:
Solar photovoltaics
Wind turbines
Solar thermal hot water
Ground source heat pumps
Small hydro
Fuel cells
Bio-energy
Renewable CHP (combined heat and power)
MicroCHP
Alternative grants are available in Scotland through the Scottish Community Householder Renewables Initiative, funded by the Scottish Executive. It can provide up to 30 per cent of the installation cost up to a maximum of £4,000, while in Northern Ireland the Environment and Renewable Energy Fund offers grants to householders.
There are two funds available in Scotland that can make considerable contributions to those building a new home. Rural home ownership grants are designed to fill the gap between the maximum mortgage available to the applicant and the cost of a reasonable first home. Grants can be worth up to £20,000 but will not be more than 33 per cent of the total building and land cost.
The croft house grant scheme can help crofters build new homes. Rates of grant vary depending on where the croft is located but can be up to £22,000, with high priority going to remote areas with declining populations.
You might also like...
building a new house as demolished a 1960's bungalow. Looking to see if there are any grants available for solar, bio-mass, heating, insulation, windows etc.,, etc.,
maria
- 21-Nov-23 @ 4:31 PM
Hi I am building a new house and am looking for any grants to help with the solar panels or the heating system for the house is there anything? Any help is gratefully received.
Nel
- 14-Oct-23 @ 12:31 PM
I am having to demolish my house as its has subsidence and I was wondering if there was any grants available.
Heather
- 9-Oct-23 @ 12:52 PM
Hello, we have permission for a class q barn conversion and have been told we need to have some form of environmentally friendly power source. Are there any grants suitable for this and for converting the barn? Looking for similar advice as to most the other comments.Many thanks in advance.
Jodes
- 23-Sep-23 @ 6:15 PM
I have a barn that I need to convert into a house is there a grant funding available please thanks Phil
Phil gray
- 20-Sep-23 @ 4:18 PM
I have planning permission to build four flood proof, environmentally friendly houses and extend an adjoining fifth. All five properties have been designed with solar gain in mind, hermetically sealed, with ground or air source heat pumps and pv, including clear, solar panels. Could you tell me what grants this scheme woukd qualify for?
Kantony
- 26-May-23 @ 10:50 AM
Hi, I'm doing a class q conversion of a barn. Are there any grants/claims for ASHP, solar, MVHR or any other type I can claim for?
Murdy
- 23-May-23 @ 11:10 AM
We are nearing the start of new build - (highlands, Scotland) wirh air source underfloor heating. Wonder if any funding available to help with costs . Possible solat panels also.
Dannie
- 2-Apr-23 @ 11:41 AM
HI i am about to start a a barn conversion whichhas to be demolished and was wondering if there are any grants available to me for solar panels , heat pumps or anything else andso i can be more ecofriendly to the enviroment in my project .
LIBBY
- 9-Mar-23 @ 11:58 AM
We are about to start a new build may 2023 are there any grants avail , will be going eco as possible . Eg solar , heat pumps underfloor heating etc .
Kp2
- 18-Feb-23 @ 7:12 AM
Hi we have a new self build starting soon,we are just about to brake ground and was wondering if there is any grants available for us in N Devon
Rossco
- 28-Nov-22 @ 7:56 PM
Hi, we are in he process of a complete ground up rebuild of a grade 2 listed barn, we are looking at installation of a heat pump, solar panels and any other sources of renewable energy, could you please inform us on any available grants. Thank you Daymo
Daymo
- 22-Sep-22 @ 2:18 PM
Hi there, We have recently bought a house that needs a complete update. We have our plans approved to extend and renovate fully and want to make it as sustainable and carbon neutral as possible. Are there any grants I could look into for this? Many thanks in advance for your response. Charlotte
Char K
- 29-Jul-22 @ 7:26 AM
Hi We have class q planning to convert a barn into a dwelling in the countryside in Devon, are they any grants available to us???
Spence
- 13-Jun-22 @ 11:32 AM
I have just completed the build of a new property I have claimed for the PV"s and Heat source pump - can I claim for all the insulation materials used in the walls roof and floors?
Please contact me asap
Doug
- 4-Jun-22 @ 5:09 PM
I am about to develop a brownfield site into 11 dwellings and wonder what grants might be available to assist me in reducing the current carbon footprint by 10% minimum.
Franco
- 6-May-22 @ 4:57 PM
Hi iam hoping to be granted planning permission for a self build in November. The plot will be in a 5 acre plot on the outside our small village. I was just wondering what sorts of grants are available? We are thinking of air source heating/ground source heating ect. Also windturbine/ solar panels are also a option. Just wondering what are best options are to make the most of the grants.
Rossco
- 2-Oct-21 @ 4:21 PM
Hi I have planning permission for a bungalow made out of ICF blocks, I'm trying to make the house as eco friendly as possible. I'm in Newport South Wales is there any help with any funding or even information on advising on better ways to plan an eco build ?
Rich
- 17-Jun-21 @ 9:05 AM
Hi, I'm about to embark on building an eco home in co.down, northern ireland. Are there any grants available in this area please
In the process of building a park home to live in full time on our own land is there any grants available?
Mush
- 17-Mar-21 @ 11:37 PM
We are shortly to begin our new build eco single story house in the countryside. nThis has been designed to accommodate my increasing disabilities What grants are available for solar panels and a electric car charging point? Also as both of us have disabilities is there any other financial help available?
Fran
- 8-Feb-21 @ 4:25 PM
Planning to convert a run down small stone barn into a cozy one-room stone cottage. It's in Devon. Planning to insulate, use double glazing and will be off grid, so using solar panels. Any advice on possible grants/financial incentives for installing solar and insulation gratefully received! Thanks. Reg
Reg
- 29-Nov-20 @ 7:04 PM
Hi, I have found land and in motion of purchasing without planning (high risk high reward I know) I would like some information to put forward to planning that would help me grant planning, it's staying low in height which I believe is always a bonus, also it set in country so I would be interested to keep natural cladding look, if eco properties helps my planning application I would defiantly be interested in adding this into my application, Thanks Spence South - East Kent ????
Spence
- 29-Nov-20 @ 6:32 PM
I am just about to purchase a building plot and I'm going to build an oak timber frame bungalow,are there any grants available which I can claim to help me achieve the high eco standards that the government have set ? Kind regards Pat cope
Pat
- 29-Nov-20 @ 6:29 PM
We are presently in the process of starting to build our own house.We have completed full planning permission and drawings now going to engineers.Is there any grants for self build in Argyll & Bute
Wee Mo
- 3-Oct-20 @ 4:55 PM
Hi, I've recently purchased a plot of land with planning permission. We are in the process of amending the plans which includes a system that powers an air source heat pump through solar panels. Is there currently any funding available for self-build eco projects? Thanks.
charlie
- 29-Sep-20 @ 3:49 AM
Hi ,we are in the process ofbuying aplot of land in a rural village in scotland , have acquiredoutline planning permission fora bungalowalready, we werewondering ifthere were any Grant's available,eitherfor the build or the heating system, Thank you,Ian.b.
Bennett
- 28-Sep-20 @ 10:28 AM
Hi, we are doing a self-build, we are looking for information and advice on what grants are available for renewable energy in Lancashire. Thanks
donna
- 25-Sep-20 @ 1:44 PM
Hi We are doing a self build house and annex building which is a small lodge. We are considering ground source heat pumps and wondered if their is funding available.
Mick
- 22-Sep-20 @ 7:37 PM