Get a Government Grant to Help Generate Your Own Power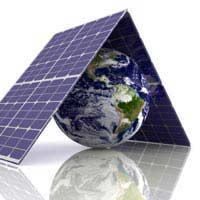 In an ideal world, all of us would by now be generating our own clean power rather than depending on mains gas and electricity.
It would be good for the environment and we wouldn't be so dependent on mains power. It would also be cheaper so after a while, the installation would pay for itself.
The main stumbling block for most people is the initial outlay so it's great that the government has now introduced grants of upto £2,500 – or half of the cost – to households installing certain technologies.
Grant Limits
Unfortunately, the overall limit is £2,500 so if your installation costs £7000, you will only receive £2,500 rather than the full 50 per cent.
This means it's worth taking the time to get at least four or five quotes from reputable installers because a lower price will help to cut down on the amount you have to put towards the work.
Although solar power is by far the most popular choice when it comes to power generation, the micro generation grant is also available for other installations such as wind and hydro power or ground source heat pumps.
But you will only be eligible for the grant if your home already has a reasonable level of energy efficiency.
For example, you must have a minimum recommended level of loft insulation, your walls should have cavity wall insulation (if appropriate) and your existing heating controls must include a timer or programmer together with a room thermostat.
Planning Rules
Planning laws have been relaxed for solar power installations so most people will not require approval from their local council but there are important exceptions so you must check whether any permission is needed.
Once you have applied for a grant and received approval, you can go straight ahead with installation – but you must use an approved installer to qualify for the payment.
It is strongly recommended that you choose a company which is covered by the Microgeneration Certification Scheme because they have been independently assessed and there is a procedure for complaints.
You can apply for a grant online and should receive your grant payment within a month of paying your installer and submitting the necessary paperwork.
Payment Limits
Unfortunately, the grant system limit of £2,500 is per building so even if you install both solar power and a mini wind turbine, the maximum is still £2,500 in total.
It's important to note that although you can receive a payment of up to £2,500, the limits for some types of installation are a lot lower than this.
For example, if you install an automated wood pellet room heater or stove, the grant is the lower of £600 or 20% of the total cost.
You can apply for only a maximum of £400 (or 30%) of the cost of a solar thermal hot water project and a wood fuelled boiler system has a maximum grant of the lower of £1,500 or 30% of the cost.
Solar panel grants are a maximum of £2,000 per kilowatt hour of capacity, subject to the £2,500 or 50% limit while wind turbines are eligible for a payment of £1,000 per kilowatt hour or 30% of the cost.
This means you could get a grant of £2,000 towards your solar power generation plus a partial grant towards your wood burning stove.
Other Help
It may also be possible to get a "green" loan from your bank to help with your share of the costs and it's worth checking whether your local council or regional development agency has any extra grants on offer.
Some installations will also qualify for payments for generating energy – or you can ask your electricity supplier about selling any excess power back to the national grid.
There's no doubt that generating your own power will save you money in the long term – and as electricity prices rise year on year, more and more people are likely to see it as a good way to save money as well as do their bit for the environment.
You might also like...
I am commecing new build are there grants available to assist with green energy installation
I am building a three bedroom house in upminster & was wondering if there were any grants available to me
Tor
- 25-May-20 @ 3:38 PM
@Aj - Scotland has moved away from grants for installing solar panels. However, there are still a few options possible and one is through the Energy Saving Trust Scotland
link here
. I hope this helps.
EcoFinancing
- 21-Nov-14 @ 12:30 PM
im building a timber frame house in Scotland ,and am looking at ways to save money and power. I was thinking of fitting solar panels etc, but not sure who I should contact regarding any grants that are available. Any ideas ?