Eco-Community Groups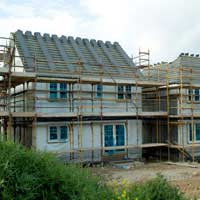 Eco-Communities Ready for Take-off
Eco-friendly communities are starting to spring up all over Britain as property developers begin to react to concerns about global warming. The idea is about to take off on a much grander scale, however, with the Government set to launch so-called eco-towns.
Prime Minister Gordon Brown has announced that 10 eco-towns will be built, each with between 5,000 and 20,000 new homes. Initially, five eco-towns were planned but an overwhelming response from local authorities and developers prompted a Government rethink and venues for 10 eco-towns will be announced in 2008.
No green belt land will be used, as the low-carbon and carbon-neutral homes will be constructed on disused Government sites that are surplus to requirements. One site has already been identified. The former military barracks in Oakington, Cambridgeshire is currently a holding centre for asylum seekers but will become a mixture of private homes and social housing. All the eco-towns will generate their own electricity from renewable sources, such as wind turbines and solar panels, and that will exempt buyers from paying stamp duty.
Build Your Own Eco-Community
Although the Government's plans are on a large scale, eco-friendly communities are not a new idea. Ashley Vale in Bristol is a collection of 26 eco-houses that were designed and hand-built by local residents. The project began in 2000 when local residents formed the Ashley Vale Action Group in order to oppose a developer's proposal to turn a scaffolding yard into a housing estate. The group put forward their own, alternative, vision and won the right to build a sustainable, mixed-use community on the yard.
The self-builders had to design their own homes and most had little or no building experience. They used timber frames and many of the double-glazed windows are made of sustainable timber. Fermacell boards - made with gypsum and cellulose from recycled paper- was preferred to plasterboard and the cavity walls were filled with Warmcel - made from newspaper.
To maximise warmth in the sitting and kitchen areas, bedrooms are on the ground floor with the living spaces above. Most homes have under-floor heating and all but one have solar panels. The south side of the roofs hold the solar panels and the houses are so well insulated that residents sell solar electricity to the national grid.
Carbon Neutral on a Large Scale
The Beddington Zero Energy Development (BedZED) in Wallington, Surrey is Britain's biggest carbon-neutral eco-community and was completed in 2002. It consists of 82 residential homes, commercial buildings, an exhibition centre and a children's nursery.
Where possible, BedZED was built from natural, recycled or reclaimed materials sourced within a 35-mile radius of the site. Only energy from renewable sources is used to meet the needs of the development, and homes and offices are fitted with low energy lighting and energy efficient appliances. The homes boast thermally massive materials that store heat during warm conditions and release it at cooler times. Heat from the sun and heat generated by occupants and every day activities such as cooking is sufficient to heat BedZED homes, so the need for space heating is reduced or eliminated.
BedZED receives power from a small-scale combined heat and power plant (CHP). Normally heat that is produced as a by-product of generating electricity is lost, but CHP technology harnesses this heat. The plant at BedZED provides hot water and is powered by off-cuts from tree surgery waste that would otherwise go to landfill. In addition, BedZED has a legally-binding green transport plan that was a condition of planning permission. It promotes walking, cycling and use of public transport, and a car pool has been established for residents.
Good Things in Small Packages
Smaller eco-friendly communities exist at The Wintles, near Bishop's Castle in Shropshire, and Heywood Gardens, Prestwich. The Wintles consists of 14 homes built from local, natural and reclaimed materials. Triple glazing helps capture and recycle natural heat, while active solar panels and plumbing that assists water recycling help reduce carbon output.
Heywood Gardens is a 10-home development that incorporates traditional energy-saving measures, such as improved insulation and low-energy lighting, as well as more contemporary features like a heat recovery ventilation system. Domestic wind turbines produce electricity to supplement mains use for some properties and solar roof panels contribute to hot water production on others. Water management systems for taps, dual flush toilets and water restricted radiators save on water bills.
You might also like...
My Dad has a large garden and has said he wants his legacy to be that he provided some eco friendly affordable housing. Dad has a garden about 3/4 acre, with over thirty mature trees, not to mention shrubs galore (Mum was a prolific gardener). Obviously some clearing would need to happen in order to build, but it would be awesome to provide some accommodation with some ecosystem still in place. Does anyone here know where to start with this idea?
Rara
- 5-Jun-23 @ 11:49 PM
Hi, We are looking for funding to improve the insulation on our community based social club, we host a varied selection of community based groups. Our building a mixture of prefabricated concrete and 60's cavity wall with very little in the way of loft insulation. is there any help out there
peter
- 13-Jan-20 @ 3:44 PM
Hi I own a small food business, I was wondering if you could help me with a grant to go biodegradable I have done some changes its just so expensive, many thanks Gloria
Glo h
- 8-Jan-20 @ 8:56 AM