Wind Turbines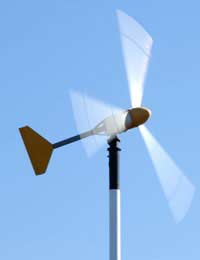 Blustery Britain Ideal for Wind Turbines
Wind power offers a clean and renewable energy source with no harmful emissions and it is ideal for the UK, which can boast 40 per cent of Europe's total wind energy. As yet, it an energy source that remains largely untapped, with only 0.5 per cent of UK electricity generated by wind power.
Some locations are better than others to harness this type of power, as the amount of electricity generated depends greatly on both the speed and direction of the wind. Nearby trees, hills or buildings can reduce windspeed, which can also vary considerably from region to region within the UK. An area is suitable if the annual average windspeed is above six metres per second, and it is worthwhile assessing local windspeed before proceeding.
There are two types of wind turbine - mast mounted and roof mounted - and both operate the same way. The force of the wind rotates aerodynamic blades that turn a rotor and generate electricity. Most wind turbines generate direct current electricity and require an inverter to convert it to alternating current electricity like that used in mains electricity. The system can be connected to the national grid, but if not it will require battery storage too.
Get Planning Consent First
Turbines vary enormously in size and power, but a typical domestic system has an output between one and six kilowatts. As wind speed increases with height, a high mast is the best place for a turbine, but installation usually requires the permission from the local authority so conservation, visual impact and noise issue must be taken into consideration.
Although an ideal power source for remote, off-grid locations where conventional methods of electricity supply are either expensive or impractical, small-scale wind turbines are also suitable for urban locations. Small, roof-mounted turbines cost upwards of £1,500, while larger mast-mounted systems are between £10,000 and £25,000. The lifetime of a turbine can be anything up to 20 years with regular service checks, but batteries have to be replaced every six to 10 years.
Average savings do not compare favourably with other environmentally-friendly measures that can be taken at home. Britain's average windspeed is 5.6 metres per second - enough to generate around half a kilowatt of electricity. That could slice around £100 off energy bills, so it would take 15 years for even the cheapest turbine to pay for itself. However, in parts of the country with a much higher average windspeed, the savings will be far greater.
Grants will Soften the Blow
Grant assistance is available through the Department for Business Enterprise and Regulatory Reform's Low Carbon Buildings Programme. UK householders can claim up to £1,000 per kilowatt installed up to a maximum of £5,000 as long as that is no more than 30 per cent of the total installed cost exclusive of VAT. To be eligible to apply for a Low Carbon Buildings grant, householders must demonstrate they have minimised their energy requirements by installing measures such as cavity wall insulation, loft insulation, low energy light bulbs and basic controls for heating systems.
An alternative grant for small-scale wind systems is available in Scotland through the Scottish Community Householder Renewables Initiative, funded by the Scottish Executive. It can provide up to 30 per cent of the installation cost up to a maximum of £4,000, while in Northern Ireland the Environment and Renewable Energy Fund offers grants to householders.
You might also like...