Maintain Your Vehicle To Help the Enviroment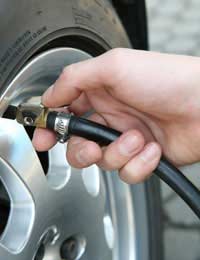 It is obviously important to have a well-maintained car, primarily to ensure it is safe for the driver, passengers and other road users. An added bonus is that a well-maintained car is a greener car, because it is more fuel efficient and so releases fewer harmful greenhouse gases into the atmosphere.
There is no getting around the fact that transport is not good for the environment. It accounts for almost a quarter of the UK's carbon dioxide emissions and is the fastest growing source of greenhouse gases. Road traffic is by far the biggest culprit, but simple measures can be taken to reduce a car's harmful emissions and save money into the bargain.
A good start is to buy a fuel-efficient car and drive it in a fuel-efficient manner. However, any car, regardless of the driver, will be more efficient by following these guidelines:
Check tyre pressure.
Change the oil.
Check fuel economy.
Get a tune-up.
Check the emission control system.
Tyres should be inflated to the air pressure recommended for the vehicle and details can be found in the owner's manual. Tyres can lose around one pound of pressure every month, so need to be checked regularly and certainly before going on long trips or carrying heavy loads. Under-inflated tyres can have an adverse affect on handling and safety, wear quicker and are less efficient. For every three pounds below the recommended air pressure, fuel economy falls one per cent.
Changing the oil and oil filter regularly will improve fuel economy and extend the life of the car. Consult the owner's manual for specific advice on how often to change oil. Try to find a mechanic who will recycle the oil, and request recycled oil as a replacement. It's worth keeping a close eye on the fuel economy of the car. If fuel economy drops, it can indicate a problem with the engine or the brakes. This advance warning can allow problems to be fixed before a breakdown.
Get in Tune
A tune-up can improve fuel efficiency. Replace worn spark plugs and check for dragging brakes and low transmission fluid. Have wheels aligned, tyres rotated and replace the air filter. Try to recycle all used fluids, or dispose of them safely. Have the car's emission control system checked and have it serviced if an instrument panel warning light comes on.
Buying low rolling resistance tyres can improve fuel efficiency by up to four per cent. If a tyre has high rolling resistance, more power is needed to move the car, so the engine has to work harder and will use more fuel. Most major tyre manufacturers now produce low rolling resistance tyres, and in a year they can save the average driver about £60 on fuel.
More energy can be saved by reducing the weight in the car by removing items that are not needed for the journey. Golf clubs, buggies and tools can often be left in the boot and losing the extra weight will improve fuel consumption, as carrying an extra 50 kilograms can reduce fuel efficiency by one per cent.
You might also like...