Green Bonds to Finance Climate Change Projects?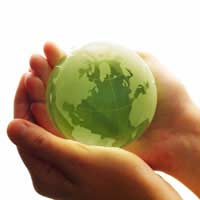 Climate change is one of the biggest environmental problems facing the Earth today and the UK needs to take speedy action if we are to meet the stringent environmental targets that we are working towards.
So it's good news that the government is planning to use Green Bonds as part of a larger new Green Bank scheme to help fund climate change projects.
According to the Green Investment Bank Commission, we need an estimated investment of £550 billion if we hope to succeed in reaching our renewable energy and climate change targets by 2020.
Green Bonds Success
The idea for Green Bonds originally came from the Swedish bank (SEB) and the first bond of its kind raised over $350 million for green projects when it was issued by the World Bank in November 2008.
Proposals are now underway for a similar Green Bond available within the UK through a new independent Green Investment Bank which would attract finance from pension funds and insurers as well as other private investors.
What is a Green Bond?
The basic format would be similar to that of a government bond where an investor puts in cash for a certain period of time in return for a fixed return on the money.
Terms are usually 5-10 years but this is negotiable and Green Bonds could run for longer.
Supporters say they offer an excellent avenue for helping to raise the money needed through private investment to fund urgently needed low-carbon projects.
How do Green Bonds work?
In the past, Green Bonds have been used worldwide to help to finance environmental and climate change projects in developing countries.
They have proved popular globally because they provide people or institutions with a safe return for their money and they also get satisfaction from knowing they are actively helping to combat climate change.
Green Bonds have been used for a wide range of projects such as alternative energy installations, re-forest initiatives, flood protection and watershed management.
New Technologies
They have also helped to fund new technologies to reduce greenhouse gas emissions - many of which will be needed in the UK if we are to become less polluting and more energy efficient by 2020.
A great example of Green Bonds was seen in 2009 when HSBC offered investors the chance to raise money for vaccines for millions of children in dozens of low-income countries.
Helping Children
HSBC's "vaccine ISA" was the first of its kind in Britain and proved extremely popular with the public.
Currently, the Green Investment Bank Commission is also considering Green ISAs (Individual Savings Accounts) which would give even the smallest of investors the chance to contribute to the funding of green projects.
Commission chairman, Bob Wigley, says the bank should be permanent and independent of government and any profits should be re-invested to further its mission - but he stresses that it shouldn't crowd out the private sector.
Speedy Results
Initially, he says, the Green Investment Bank should concentrate on areas where it can have speedy, effective results such as extra investment in proven energy efficiency schemes, alternative energy and low-carbon initiatives.
At the moment, the UK is lagging well behind a number of other European countries in its use of renewable energy and investment in Green Bonds or Green ISAs could help to raise vast amounts of cash to fund many new renewable energy schemes and installations.
You might also like...