Online Shopping is Greener Than the High Street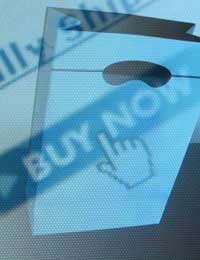 The number of people shopping online increases on an almost daily basis - but what is the big attraction?
Is it because it's easier or cheaper than traditional shopping and is it actually greener than driving to your local shopping centre?
Everyone has succumbed to online shopping at one time or another but it is fast becoming the most fashionable option.
You can now order almost anything online, from food shopping to furniture – and a study at the Heriot-Watt University in Scotland claims it is SEVEN times greener than hopping on the bus to the high street.
Many surveys in the past which have tried to weigh up the pros and cons of online versus high street have concluded that it very much depends on the individual's shopping needs and habits.
But according to the Scottish study, it is 24 times more eco-friendly than going shopping by car.
How Can Online Shopping Make Such a Difference?
The average trip to a shopping centre produces a whopping 4,274g of CO2 in a car while your bus trip could account for 1,265g of CO2. Now compare that to much lower 181g of CO2 produced by a typical home delivery van!
The study concluded that to equal the low amount of carbon dioxide produced by a delivery van dropping off a single item, a shopper would need to buy at least 24 items in a single car trip or and seven items to travel by bus.
Professor Alan McKinnon, author of the survey, said he hopes the findings will encourage shoppers to think about the environmental impact of their shopping choices.
More to Think About
But there are many other considerations apart from C02. If we all shopped online, our local High Street and neighbourhood shops would go out of business and that would impact on our communities, local jobs and the livelihoods of local producers.
These are all valid points for sticking with traditional shopping but you can support local shops and still lessen your environmental impact if you change your shopping habits.
If possible, buy at least one month's worth of non-perishable items like toilet rolls, tea bags and pasta in a single trip.
Try to reduce your trips to large and more distant supermarkets by buying enough staples to keep you going for at least two or three weeks then buy your fresh items at local, independent shops. If they are within walking or cycling distance, then so much the better!
If you're buying clothes, make the time to try them on before you leave. That way you won't waste another trip and more C02 emissions by driving back to return unwanted items.
Another factor in the greenness of online shopping is that it can reduce the time spent driving between shops comparing products and prices.
Tip: If you need to shop in person why not check prices on the internet before you go for a more efficient and greener trip?
Another important factor is the huge amount of information about environmentally friendly products which you can find on the internet.
As well as finding out about the best new eco-friendly products available, you can support countless ethical or 'green' shops trading on the internet.
When you do go out traditional shopping, instead of simply mousing to your favourite retailer, remember:
If you can afford to buy in bulk it cuts down the number of trips you'll make in a year and if you can car-share with a friend or relative, that's even better
If you need to buy something from a store which is in the opposite direction to your normal destination, consider ordering it online – saving you the extra petrol and reducing pollution
If you do shop online regularly, try to support ethical or eco-friendly retailers. Check a company's 'About us' section to check on their transport policies, packaging, suppliers and recycling initiatives.
Unless you really need an item urgently, always choose the retailer's standard delivery option because this means your parcel will be delivered along with hundreds of others whereas using Next-Day or Express Delivery might mean a delivery van travelling 20 miles out of its way to deliver your single small package.
You might also like...