Carbon Footprint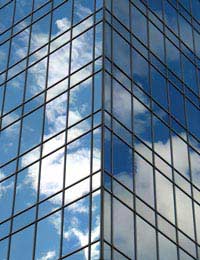 Most human activity causes carbon dioxide or other greenhouse gas emissions that contribute to climate change. More than 40 per cent of carbon dioxide emissions in the UK come directly from the actions of individuals, such as heating homes and driving cars. The total amount of greenhouse gas emissions caused by an individual is often referred to as their carbon footprint. It is measured in units of carbon dioxide and the UK average is 11.81 tonnes per person each year.
Research suggests greenhouse gas emissions need to be cut by two-thirds by 2050 to reduce the risk of the catastrophic storms, floods and droughts associated with global warming. If individuals in the UK are to do their part, carbon footprints must be cut to less than four tonnes.
Calculating a carbon footprint can often help an individual take steps towards reducing the size of it. A carbon footprint has two parts - the direct, or primary footprint and the indirect, or secondary footprint. The primary footprint includes activities like domestic energy consumption and transportation, as it measures direct emissions of carbon dioxide from the burning of fossil fuels. The secondary footprint measures indirect carbon dioxide emissions from the lifecycle of products we use, from manufacture to eventual breakdown.
How it all Adds Up
Heating accounts for 70 per cent of energy used in households and to calculate the carbon emissions from gas the number of kilowatt-hours should be multiplied 0.19. The total should be divided by the number of people in the home to calculate an individual's carbon footprint. Oil is more carbon-intensive than gas, so people using oil for space and water heating will probably have a higher carbon footprint than those using gas, but the worst option is coal, which produces nearly pure carbon dioxide when it burns.
Between 1972 and 2002, electricity use in households doubled and it is still on the increase. Electricity's carbon cost is calculated by multiplying the number of kilowatt-hours by 0.43 and, as with gas, the total should be divided by the number of people in the home to calculate an individual's carbon footprint.
Road transport accounts for a fifth of the UK's carbon emissions and an individual's impact depends on both the type of car and the distance travelled. Multiply the car's emissions (in kilograms per kilometre) by the number of kilometres travelled in a year. If journeys were shared, the total can be divided with passengers. For the carbon cost of public transport in kilograms, multiply the kilometres travelled by 0.11 for trains, 0.09 for buses and underground trains, and 0.47 for ferries.
Flights can Double Carbon Footprints
Britain's carbon dioxide emissions from aircraft doubled in the 1990s and the Government projects emissions will double again by 2030. A return flight from London to Sydney will double most people's carbon footprint for the year, while short-haul flights use proportionally more fuel.
More guess work is needed when calculating the impact an individual causes through consumption. Everything bought has an energy penalty associated with it due to the energy used in gathering the raw materials, processing and manufacturing, transporting and selling it. Those who have the latest of everything, love shopping and eat mostly packaged convenience food will increase their carbon footprint by 3,000 kilograms a year, whereas those who grow their own organic food, shop locally, reuse and recycle, add 600 kilograms, with everyone else falling somewhere in between.
A Worldwide Carbon Budget
If everyone on the planet was given the same carbon budget, a sustainable figure would be about one tonne per person, but the average in the UK is about 11 times this, while Australians have a carbon footprint almost twice as big as Brits and the USA's average is worse still. Developing countries such as China and India are far more sustainable and, generally speaking, the poorer a person is, the less they emit.
While it may be extremely difficult for those in developed countries to reduce their carbon footprint to sustainable levels, steps can be taken by recycling, eating seasonal, locally-sourced food with less packaging, insulating homes, using energy-efficient appliances, switching to green energy suppliers, walking or using public transport and holidaying at home. An alternative for those able to afford it, is to offset part or all of their carbon footprint, whether by funding renewable energy sources or contributing to reforestation in Africa.
You might also like...