Green Bank Accounts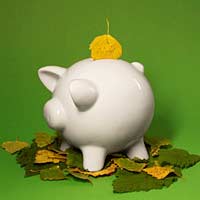 Between the sub-prime mortgage debacle and the ongoing repercussions of the "credit crunch", banks and building societies have found themselves spending rather a lot of time under the spotlight of late. Whether you love them or loathe them, there's almost no way of avoiding them and with more and more of us making use of online banking and getting paid by direct transfers, the bank account is firmly established as an essential part of modern life.
Although most of what the individual banks have to offer in terms of a cheque book, ATM card and opening hours is pretty similar, not all bank accounts are the same. The difference doesn't lie in how much they charge you for an unauthorised overdraft or to use your cash card overseas; it comes down to how they generate the few per cent of interest they credit you with periodically. So just exactly what do they do with your money?
Ethical Investments
Most of the profit that banks – along with building societies, insurance companies and pension funds too, for that matter – make comes from investing customers money in the stocks and shares of a variety of businesses. On the face of it this may seem all well and good – but if you're trying to do your bit for the environment in every other aspect of your life, using a bank which invests in some eco-damaging global conglomerate doesn't really fit the bill. To accommodate the growing ranks of people looking for a banking solution that doesn't – literally – cost the earth, a number of financial institutions now provide "ethical" accounts, with a close watch kept on the type of companies which receive investment from them. Alternatively, there are a few types of green accounts, mortgages and loans which include the bank itself making a small donation on your behalf to suitable environmental organisations or projects.
With many companies now embracing the whole carbon-neutral principle, greener approaches to businesses are increasingly being adopted – so it is definitely worth asking your bank how they stand on the whole eco issue. If the products and services they are marketing to you are genuinely "ethical" they should only be too pleased to tell you everything you want to know!
Do They Really Work?
Although the whole idea has obvious appeal, there are some fundamental problems.
One of the biggest is knowing just what really is "ethical." Investments that pour support into the arms trade and pornography are clearly out, but what about oil companies – or any companies that use oil? It's not about shades of grey, so much as shades of green; "light green" investors will avoid the obvious offenders, but may use pharmaceutical firms and agri-chemical companies that "dark green" alternatives would not. Even if the "investment" is targeted directly to fund environmental work, in the same way as verifying that far-away carbon offset schemes are as good as they should be can prove difficult, how can you be sure that the projects supported on your behalf are beneficial ones?
Another – and far less altruistic – consideration is that the returns on your money are usually significantly lower than for a more conventional account. While we may all like to think that we would happily sacrifice a bit of profit for the planet, according to a recent study, it seems that when it comes to the crunch, we may not be quite so ready to put our money where our mouths are. Research commissioned in 2007 found that a general lack of information and awareness of what was on offer was a major factor in this, but that both apathy and a desire for the higher interest rates of traditional bank accounts also played their part.
While the report's author, Professor Alex Gardner, suggests that this shows that for many people, their greenness "may be more superficial than they think," there may be another explanation – at present there really aren't that many players in the green-banking game. Currently there are few High Street contenders and given the current climate in the banking industry, few people now would really feel comfortable handing over their hard-earned cash to relatively unknown financial institutions. With relatively few accounts on offer and green mortgages still in their infancy, product scarcity may be more of a problem than the lure of high profits.
Banks move with market forces; the sooner enough of us start asking for better environmental performance and more ethical investment policies, the sooner all banks will have to encompass the idea – or risk losing their customers. When that happens, the answer to whether there really is such a thing as a green bank account will be a resounding "yes!"
You might also like...