Student Protests Change University Plans: A Case Study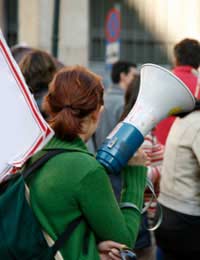 A revolution has been taking place in the past few years on university campuses all over the UK.
As institutions, most universities have massive amounts of money to invest – and students have long been critical of the dubious investing policies of some.
Eventually, some decided that drastic action was needed – and campaigns were launched to force their universities to change their ways.
Call for Change
One of the campaigns to receive the most publicity was launched by students at St. Andrew's University in Scotland.
This started in a fairly small way with students voting that their association's own £1 million investment fund should be invested ethically.
It quickly snowballed and, with the help of a town centre protest to win the support of local people, the students set about persuading the university itself to consider more ethical investment.
The university set up a working group which led to the introduction of a new Sustainable and Socially Responsible Investment Policy. Fairly soon, this led to the boycotting of investments in the arms industry and companies which routinely use animal testing for cosmetics.
The university also agreed that in future, it would invest, where possible, in areas such as green energy.
Green Gown Praise
St. Andrew's students have since built on the early success in 2008 of a commendation in the Green Gown awards, a national award scheme to promote environmental awareness in universities.
It won the award after judges were impressed with the results of its campaign, which included
Proving the financial case for ethical investment
Increasing awareness amongst students and staff (many moved their own cash to more ethical accounts)
Demonstrating customer power
Helping to promote the university's sustainability goals
Through an internet site, the campaign group offered practical help and advice to students in other universities interested in following their lead.
Three years on, today's students are still heavily involved in the university's investment of its £30 million fund.
They meet with fund managers, get information on current investments and can ask questions and make suggestions for investment.
Campus Change
By 2010, more than 40 universities in the UK had introduced a sustainability policy which included ethical investing (although a quarter of these did not include environmental issues).
The success at St. Andrew's prompted students from all over the country to demand more ethical investments from their own institutions – and there have been some major successes.
Nationally, the students' union, NUS, is keen to put its money where its mouth is and in 2011, after years of trying to persuade Royal Bank of Scotland to stop investing in fossil fuel companies, it switched the union's accounts from NatWest (part of the RBS group) to the Co-operative Bank.
Student Support
Before making the switch, it had mounted a lengthy campaign which included protests outside the headquarters of RBS and a mock trial where the bank was found guilty of environmental crimes.The NUS is now hoping that individual students - who account for a substantial share of the bank's customers - will also switch their personal accounts.
The NUS makes it clear to companies hoping to supply the union with products that they will not be considered if their company is involved in unethical investments.
It also actively encourages approaches from suppliers who support socially-positive products such as Fairtrade.
Given that today's students are the decision-makers of tomorrow, their commitment to ethical investing and the environment is obviously good news for our planet.
You might also like...