Our Eco-Fashion Project: A Case Study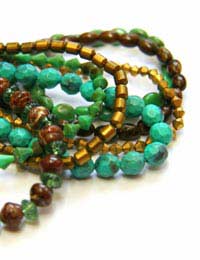 An innovative project set up by London College of Fashion brought together skills from opposite sides of the world – and benefited families living in poverty.
Students from the college created a stunning new range of fashion accessories in partnership with crafters living in Johannesburg in South Africa – and it is hoped their example will encourage similar projects in the future.
Accessories
The products they produced, including jewellery and handbags, were made from local sustainable materials such as re-used telephone wire.
The South African crafters involved were selected from very poor and violent areas and many are single parents whose families have been devastated by AIDS and HIV.
The project was set up by Dilys Williams, Director of the new Centre for Sustainable Fashion at the college who believes the strong European style of the range, combined with South African craftsmanship, sets it apart from the usual mass-market offer.
High Street Hope
The designs proved hugely popular at the Ethical Fashion Show and Dilys is now hoping that they will be stocked by High Street chainstores in the UK.
The idea behind the project was that the pay they received from the project would help the crafters to improve their lives and their local community. They would also get an introduction to setting up their own venture and hopefully this will eventually lead to future income from the European fashion market.
And to make sure that the project provided students with a real taste of the challenges of a career in this fast-moving industry, the work had to be undertaken to strict deadlines. The students also had to follow ethically and environmentally sound working practices.
The project proved such a success that the college has since run a similar model with a charity in South Africa called Tabeisa, and has set up Shared Talent India, bringing together UK and Indian designers to promote Indian sustainable textiles.
Other Benefits
"The project is already having a ripple effect into the industry through our new Centre for Sustainable Fashion," said Dilys.
"The Centre aims to become an internationally recognised catalyst for change and we will work with the fashion industry to create better lives through a sustainable fashion economy."
Students taking part in the original project were drawn from a range of courses at the college, including fashion photography, fashion management, product design, womenswear, accessories design and surface textile design.
And it has already helped to shape the careers of some of the first students to be involved. One went on to work with a cooperative in Nepal to produce designs from locally sourced raw materials while three other graduates are hoping to start their own business and maintain strong links with South Africa.
Valuable Lessons
"We are passing on many of the lessons we've learned through the Shared Talent project to college students in a range of lectures and debates and our curriculum now takes account of important issues like sustainability and socially responsible design," said Dilys.
"Hopefully other people will follow our lead and this will help both the people involved and the environment."
You might also like...