Save Money With Clothes Swapping Parties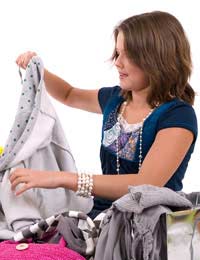 Clothes swapping is becoming an increasingly popular way of recycling unwanted garments – and adding new designer labels to your wardrobe!
Of course, donating goods to a charity shop is always a great idea but if finances are tight, you can swap clothes and accessories with friends and family while still giving your unwanted books, games and DVDs to a local charity shop.
The clothes swapping movement is growing all the time and you can now even join public clothes swapping events at locations close to you through social networking sites.
Become a Swisher
The clothes-swap movement is known as the art of Swishing and it covers a wide range of swapping - from small community events to major fund-raising occasions where all the proceeds go to charity.
And it's an excellent idea for the fashion conscious who have little money to spare but don't want to be seen in outfits from discount stores. It's an eco-friendly and ethical way of getting your hands on designer labels and accessories so what could be better?
Easy to Arrange
Swishing is a very simple concept and it's easy to set up your own swapping party. Just invite as many friends or family members as you can and ask them all to bring their unwanted clothes and accessories.
You might be looking for a new belt or handbag to match that special outfit while that size 10 dress you can no longer zip-up is just what your friend is looking for.
Most people (especially women) find that their weight can fluctuate and if you need to lose a few pounds, it's much better to pick up a couple of outfits from a party than spend money on clothes that you hope will soon be too big !
Set the Ground Rules
Tell everyone that items must be washed and clean ready for others to try on
Have a half-hour slot where everyone can browse – then let the swapping begin
Before the swapping starts, remind everyone to be polite and that no fighting is allowed!
It's also a good idea to agree in advance what to do if more than one person is interested in an item. For example, you might agree that someone who hasn't yet found an item gets first choice over someone who is already clutching three new dresses.
Or you could keep it very simple and just draw straws if there is a dispute. The person drawing the longest straw gets to keep the item.
Be Organised
Decide in advance how the items will be displayed. You might want to put all the dresses together and have a separate pile of all the shoes and handbags. Some people prefer to group items by size – after all there's nothing worse than finding a beautiful skirt and then finding it is two sizes too small for you!
Clothes-swapping parties have been described as "recycling at its best" and they are also great social occasions.
Have Some Fun
You can catch-up with friends you might not have seen in a while and enjoy a glass of wine together and if people are happy to take part, you could even have a mini fashion show where people choose an outfit and accessories to model.
If you don't want to host a party in your own home, you could try a local pub or church hall and charge a small fee to cover the cost of venue hire.
You might also like...