Eco-Friendly Gas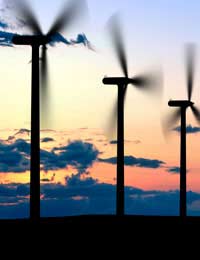 Offset to Make Gas Green
It's not easy being green when it comes to the home's gas supply. With other types of power production - like electricity - suppliers can use renewable sources of energy to give customers an eco-friendly option, but that is not the case with gas. As it is a non-renewable resource, gas cannot be classed as a green energy, but some suppliers give customers the option to offset greenhouse gas emissions instead by financing projects that reduce global warming.
The idea behind offsetting is straightforward. Everyday activities, such as using gas to heat a home, can cause cause harmful emissions of carbon dioxide. To offset these emissions a donation is made to help fund projects, often in the developing world, that will reduce carbon dioxide emissions.
Carbon Neutral for a Monthly Premium
One major British supplier has a tariff it claims is carbon neutral, meaning it will offset 100 per cent of the gas it supplies, but to achieve this £7 is added to the monthly bill. In return, the supplier promises to increase investment in green energy production in the UK, invest in developing renewable energy sources and technologies, educate children on energy and environmental issues and help schools become greener. In addition, customers are kept informed about the latest environmental initiatives and advised on how best to reduce energy consumption and bills.
Another supplier offers an eco-friendly gas tariff that fights climate change and brings additional benefits to communities around the world. One of the projects it funds - in Tegucigalpa, the capital of Honduras - supplies cleaner and greener wood-burning stoves to some of the world's poorest communities. Traditional open wood stoves provide vital heat and energy for these communities but can cause health problems, such as asthma and bronchitis. In addition, local forests are destroyed to provide fuel. But each new stove burns less wood, cuts carbon dioxide emissions by 7,000 tonnes in its lifetime, and dramatically reduces the amount of health-endangering smoke produced.
Pumped Up about Indian Projects
In rural India, a project to provide manually-operated treadle pumps is increasing agricultural production and making diesel pumps redundant. The treadle pump is similar in principle to a hand pump but operated by foot. It can be operated by one person, whether a man, woman or even a child, and can deliver up to 5,000 litres of water per hour. The treadle pumps give farmers season-round access to irrigation and reduce carbon dioxide emissions by 0.65 tonnes per pump per year.
Also in India, bio-fuel stoves are being introduced to schools. The stoves, specially designed to run on briquettes made from crop waste such as husk and corn stalks, can cater for up to 300 people. Each stove reduces carbon dioxide emissions by 39 tonnes per year, as the crop waste is a renewable source of energy unlike LPG, which traditional stoves use. In addition, school fuel bills are cut and farmers gain an extra source of income by selling their crop waste as fuel. With such options, gas suppliers are giving customers the chance to be green even though their chosen energy source is not a renewable one.
You might also like...