Set Up a University End of Term Swapshop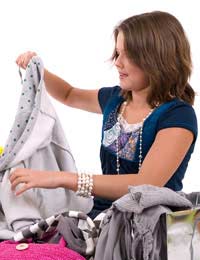 More than one-and-a-half million students are attending university in the UK at any one time and every year, hundreds of thousands are beginning or ending their university life.
Those arriving need all sorts of items, from text books to microwave ovens, while those leaving usually have too much to take home.
A Win-Win Solution
The ideal answer for both groups (and the environment!) is to set up a swap shop where people can sell or donate their unwanted goods – everything from bikes they can't transport home to books they no longer need.
Students due to start at the university can see the list of goods on offer in advance and contact the owner to reserve the item.
Many smaller items like cutlery or cups might simply be given away – but larger items like TVs or bikes, could be sold at a bargain price.
This means that the student leaving university isn't putting useful items in the dustbin while the new student benefits from a lower price than buying new - and it's a great way to reduce waste and promote recycling.
Cut Your Clutter
If you're living away from home it's a good bet that you have slowly built up a collection of items from a toaster and pots and pans to a vacuum cleaner or portable TV which you won't want to transport home at the end of your course.
So, passing them on to someone else makes good environmental sense – and you could even make a little profit too.
Most students moan about the cost of academic text books and that's hardly surprising when a single book can cost more than £30 – but once the course is finished, the book might never be used again.
Similarly, students often use bikes to get around town and reduce their travel costs but at the end of the course, the bike is often left abandoned in the university bike shed. Students just arriving would probably be happy to pay a few pounds for the machine – and the same applies to a range of items from bedroom furniture to kitchen equipment.
Getting Started
If you want to start a swap shop, you should start by contacting your university – try the department responsible for its environmental targets - or ask the Students Union if it is interested in setting up the scheme.
(If the SU is involved, people could be asked to pay a small annual membership fee of 50p-£1 which would go toward SU funds – or people could be asked to pay a nominal £1 for "free" items advertised which could go towards the costs of running the shop.
It's very easy to set up an internet forum free of charge where people can post goods on offer or place requests. Enlist a few volunteers to act as moderators – they ensure items are put in the correct category and can remove spam postings.
Let Everyone Know About it
You can publicise the scheme through emails to students due to join the university in the next few months and put up posters on campus/in halls of residence for current students. It's also a good idea to give it a mention on social networking sites.
The simplest scheme will require the donor to hang onto the item until someone asks for it – but if you have access to storage space, people can simply leave donated goods and freshers can be invited to tour the "shop" at the start of term.
Anything that isn't taken can then be sent to charity shops to help raise money for good causes.
You might also like...