Growing Your Own Fruit & Vegetables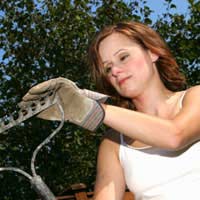 There has never been a wider selection of fresh fruit and vegetables in supermarkets than there is now. It doesn't matter what's in season, because produce is shipped to Britain from all over the world. The shelves are bulging with strawberries in January, rhubarb in October and tomatoes in February.
Unfortunately, there is an environmental price to pay for this privilege, as getting food from fields to plates causes 22 per cent of Britain's total emissions of carbon dioxide, a harmful greenhouse gas that contributes to global warming. The vast bulk of this pollution is the result of transporting the food, be it by land, air or sea.
One way to have fresh fruit and vegetables without pumping greenhouse gases into the atmosphere is to grown them. Even a small garden can find room for a few fruit and vegetables, and if more space is needed an allotment might be the answer. Local authorities are obliged to provide plots and, although there may be a waiting list, those willing to share a plot or renovate a disused allotment may not have to wait too long. The annual cost is typically under £30 with reduced charges for senior citizens.
Get Tooled Up
To start with it's best to get hold of some basic tools, including a spade, fork, hoe, trowel and seed rake. A vegetable plot should ideally have a south-facing aspect and good drainage. It needs to be protected from the wind and wildlife, but land too near hedges tends to be too dry. Also, avoid overhanging branches and shade cast by hedges and buildings.
Don't be afraid of a little hard work, as digging is a key ingredient for good growth. Make sure the plot is cleared of any weeds before starting and incorporate plenty of bulky organic manure and fertilizer. As long as the plot is weed-free and level, there is an alternative to digging. Spread manure or compost over the surface in late autumn and let worms do the work of taking it down into the soil. Adding more mulch in the growing season and repeating the process annually will keep soil fertile.
Plan for Success
Good planning can help make the plot low maintenance when it comes to digging, weeding, planting, watering, manuring, tying and harvesting. Try to divide the plot in four to allow easy crop rotation, which will reduce diseases. It is not a good idea to grow the same vegetable in the same place year after year, as this can exhaust the soil of nutrients and pests, allowing diseases to build up. Make paths between beds wide enough for a wheelbarrow and use slabs for pathways if possible to avoid having to trudge through mud.
If space is at a premium, fruit and vegetables can be mixed in with flowering plants. Climbing beans, herbs, courgettes and salad leaves all grow well in containers, while sweet peppers and tomatoes will flourish in a warm, sunny patio. The ideal crops for beginners are potatoes and runner beans, which require very little effort and are reliable. Buy good plants or seed and give them plenty food, water and light.
You might also like...