How Easy is it to Generate Your Own Solar Power?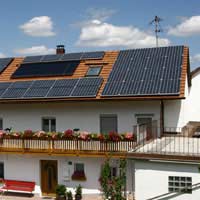 More and more people are realising the financial – as well as environmental sense – in generating their own power.
One of the most popular options at the moment is solar power, which works by creating electricity from the sun.
Of course, we don't get amazing amounts of sunshine in the UK but you don't need full sunshine to generate solar power. You can generate some power even on cloudier days.
In fact, experts say that households should be able to generate at least 40% of the electricity they need from a solar panel installation. (Exact amounts generated will depend on how many solar panels you have and their position.)
Using an Installer
It can be expensive to get a professional installation (although grants are often available to help with the cost) but if you can install your own panels, the cost can be really low.
Professionally fitted systems are likely to cost upwards of £8,000 and the cost will be more if you want to fit small panels that look like roof tiles rather than fit a large panel.
But if you already need to have your roof repaired or replaced, then you will save money on the cost of traditional roof tiles where you fit solar tiles or panels.
If, however, you have reasonable DIY skills and understand the electricity jargon – amps, watts, volts etc, then you can install the solar panels yourself. If it sounds a little daunting, then you could enlist the help of a friend or relative to help you with it.
It's not hugely technical. As long as you are reasonably confident working with tools and able to work at heights, you should be able to complete the work yourself.
Hot Water or Electricity?
Many people choose to use solar panels simply to create hot water and this can save a lot of money on electricity or gas bills in a family-sized home.
Others go for a larger installation so that they can power electrical appliances – and in really good weather when they are over-producing, they actually sell the power back to the National Grid.
Some people build portable solar panels so they can use them when they go camping and others put up a solar array in their garden rather than attempt a rooftop installation.
Time Consuming
It's worth pointing out that unless you buy a more expensive kit containing everything you need, it could be a few weeks before you've managed to buy everything needed and put it all together.
It is possible to build you own solar panels and frame but this is fairly time consuming so a good option is to buy used solar panels. Often, commercial solar panels are sold when the system is being renewed or expanded.
If you can't find second-hand panels, you will need to pay more but bear in mind that most panels have a life expectancy of more than 30 years and often, they come with a 20 year or 25 year manufacturer guarantee.
Siting Solar Panels
The first thing to consider is the best place for your panels. You need to site your solar panels where they will receive sunlight for as much of the day as possible – so south facing is generally best.
You also need to ensure that there is nothing (such as larger buildings or tall trees that will put your panels in shade for a good part of the day.)
You will need around 6 –10 sq metres of roof per 1kW of capacity so if you have a small house you might want to put the panels in your gardens instead of on the roof.
(The other advantage to this is you won't need to worry about the load-bearing limits of your roof. Large solar installations are heavy so if they are fitted to your home you need to know the structure is strong enough.)
As well as panels, you will need to buy an inverter to convert the power from DC to AC so that it can power appliances and lighting.
Battery Storage
If you don't have mains electricity, you will need to buy large batteries to store your power but in urban areas, you can use a grid-connected system which doesn't need batteries.
But if everyone in your house works full-time you might still want a battery system otherwise you will be exporting most of your power rather than using it yourself because you won't be home when the solar power is available.
In many cases you don't need planning permission for solar panels but always check with your local council because rules differ for certain homes, such as listed buildings or homes in conservation areas and areas of outstanding natural beauty.
You might also like...