Eco-School Grants and Funds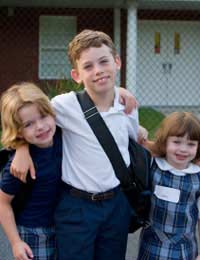 Eco-Schools Turn Pupils Green
Eco-Schools is an international initiative designed to encourage pupils to take action for the environment. The need to involve young people in finding solutions to environmental and sustainable development problems was identified at the United Nations Conference on Environment and Development, also known as the Rio Earth Summit, in 1992. Two years later the Eco-Schools programme was born and in 1995 it was introduced to the UK.
The aim is to make environmental awareness and action an intrinsic part of the life and ethos of the school and to engage the winder community. More specifically, Eco-Schools can help:
Improve a school's environment.
Reduce litter and waste.
Reduce energy use and water use.
Devise efficient ways of travelling to and from school.
Promote healthy lifestyles.
Encourage active citizenship.
Build strong partnerships with a variety of community groups.
Develop international and global links.
Pupil involvement is a key part of the Eco-Schools programme. By engaging pupils in monitoring, action planning and decision-making, they can gain a sense of ownership of the programme and feel more responsible for the school environment and local area. The desire is to help children become more effective citizens by encouraging them to analyse their school's operations and try to make them more sustainable.
Many Eco-Schools report an improvement in pupil behaviour due to an increased sense of belonging and pride within the school. Learning can improve too, as by linking to the curriculum - particularly in science, geography and citizenship lessons - the programme can add purpose to the study. There is evidence to suggest that motivation improves when pupils are able to see the big picture.
Small Changes for Big Savings
There are financial gains to be made too, and small changes at Eco-Schools can lead to considerable savings. Switching off lights and electrical appliances when not in use, installing energy efficient light bulbs and closing doors and windows to prevent draughts will cut energy bills and reduce carbon dioxide emissions. Less waste can mean reduced waste collection charges, while switching off taps to save water or making compost from garden and kitchen waste are useful measures too.
The Eco-Schools programme is also an award scheme that can raise the profile of schools in the wider community. There are three award levels: bronze, silver and green flag. The first two are self-assessed, but the more prestigious green flag is externally assessed.
Grants Available in UK
Eco-Schools is run internationally by the Foundation for Environmental Education (FEE), a non-governmental, non-profit organisation promoting sustainable development through environmental education. FEE has member organisations in 38 countries in Europe, North and South America, Africa and Oceania. Eco-Schools is administered in the UK by Keep Wales Tidy, Keep Scotland Beautiful, Tidy Northern Ireland and ENCAMS in England, and is supported by a wide variety of partners.
Grants are available to Eco-Schools throughout the UK. Schools in England and Northern Ireland that have achieved a bronze or silver award can apply for funding to help them progress towards the green flag. The maximum grant is £5,000 in England and £4,000 in Northern Ireland. Once a school in Scotland has received any of the awards it is entitled to apply for a one-off Scottish Government grant of £250, while a Scottish or Welsh school with a silver award can gain a grant of up to £1,000 to help towards the green flag.
ECO FINANCING IS FOR SALE.
This website is for sale [more info].
You might also like...
We have been awarded the Green Flag. We produced payment for it. Is there a possibility to obtain a grant post-award?
ft
- 17-Jun-21 @ 10:42 AM
How do we apply for an eco grant for our school please? Thanks
Bish
- 11-May-21 @ 9:55 AM
We are a secondary school and have our silver award. Wondering is there any funding available for the green flag assessment. We missed the frugi one ?? Thanking you
Lorna
- 8-Dec-20 @ 8:48 PM
Hi I am enquiring on behalf of Claines Church of England Primary School which is based in Worcester. How would they go about applying for a grant to help towards attaining a green flag. They have a lot of good ideas in starting Eco projects which have been hampered by funding. The children are fully on board and very knowledgable and enthusiastic about sustainability and being green. Hopefully, you can help
Mina
- 4-Nov-20 @ 4:00 PM
Starting a gardening club from scratch in a school and would like to know how to work towards getting the bronze award.
Rach
- 21-Oct-20 @ 12:30 PM
Hi - we have our bronze award. Working hard for silver. Any tips/grants for progress in this would be gratefully received. We would love to focus on a recycling centre and cameras in our environmental area. Any advice greatly appreciated. Hook-with-Warsash Academy Many thanks, Julie Nunn
Julie
- 15-Oct-20 @ 10:14 PM
Could you please add a link to apply for this grant. There seems to be no link. Thank you.
Katycar
- 27-Apr-20 @ 4:38 PM
I am about to build an eco house and architects studio for myself in a woodland clearing in Norfolk. It will be extremely energy efficient, be powered by PV's, be triple glazed and have element U- values of 0.1 It is also a self-build. Can you steer me towards any Grants or schemes please
GAVIN
- 20-Apr-20 @ 11:48 AM
Hi, there seem to be no links to suggest where this funding is available from. Can you help point towards application forms etc. thank you
rach
- 30-Jan-20 @ 2:21 PM
I'm making enquiries regard above information on behalf of St Christopher School Codsall, Wolverhampton. In particular garden composting. Thanking you.
LEL
- 23-Jan-20 @ 8:05 AM
I just wanted to ask the same question, how can we apply for funding now that we have a Bronze award and are working towards Silver? Thank you
Ayeshas
- 16-Nov-17 @ 9:15 AM
Is any funding available to schools who already have their Green Flag? Specifically for outdoor resources.
Mrs S
- 4-Nov-15 @ 6:46 PM
How do we apply for funding to help us progress towards the green flag as we also have already achieved Bronze and Silver?
rob
- 7-Oct-15 @ 12:08 AM
@Noreen - I have included a link
here
that tells you what criteria you need to fulfil. I hope this helps.
EcoFinancing
- 20-Mar-15 @ 1:56 PM
I was just wondering how do we apply for an award to help us progress towardsthe green flag?
Noreen
- 18-Mar-15 @ 8:32 PM
Hi How do we apply for the Scottish Government's one off grant of £250 for eco schools working towards their first green flag please?. Look forward to hearing from you. Jane.
Jet
- 26-Aug-14 @ 8:04 PM
How do we apply for funding to help us progress towards the green flag as we have already achieved Bronze and Silver?
George
- 27-Jun-11 @ 3:54 PM