What is the Equivalent Wattage for Energy Saving Bulbs?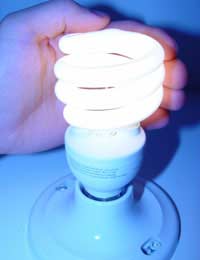 Q.
Lampshades are always labelled with a max tunsten bulb wattage.
If I have a lampshade which states e.g. max 100W (tungsten), what would be the equivalent max wattage for an energy saving bulb?
(M Gray, 23 February 2009)

A.
What is the equivalent wattage for energy saving bulbs?
Energy saving bulbs use a lot less electricity than traditional light bulbs (typically between 60-80% less) and require a much lower wattage to produce the same amount of light.
Currently, the equivalent wattage can vary slightly between different bulbs and different manufacturers but most good bulbs will carry a conversion table on the packaging to help you to decide which bulb you need.
In general, however, the wattage of most energy saving light bulbs will be within certain ranges, as shown in the table below.
Traditional Bulb Versus Energy Saving Bulb
25W = 4-6W 40W = 8-11W 60W = 13-18W 100W = 20-25W
It is now also possible to buy energy saving halogen bulbs and a wider range of these is now being developed.
At the moment, an energy saving halogen equivalent to 20W can replace a standard halogen of 35W and a 50W equivalent can replace a traditional halogen of 65W.
Pretty soon, everyone will be using energy saving bulbs. Inefficient traditional light bulbs are being phased out in the UK over the next few years. The programme of phasing them out has already started and concentrates on bulbs greater than 100W.
Types of Energy Saving Bulb
Currently, there are three main types of energy saving light bulb. The most common is the compact fluorescent lamp (CFL) which is available in both bayonet and screw fittings and a variety of shapes. There is also a different type of energy saving bulb for use in homes which use halogen lighting and these can reduce electricity use by up to 30%.
Finally, LED light bulbs which will use even less power than the current CFL bulbs are being developed. They are already available for use in halogen spotlights and once technical difficulties are resolved, a range of bulbs for general use should be available.
To ensure that the bulbs you buy are genuine energy saving bulbs, you should look for the Energy Saving Recommended logo.
Prices are dropping all the time as production increases but it's also worth looking out for free offers. To encourage customers to save energy, a major DIY chain recently gave out free energy saving bulbs and a leading national newspaper had a similar free offer for its readers.
You might also like...
I like a very bright light in my living room as a dim light gives me headaches and depression, so I have always had a 200watt bulb in there. I have yet to find an energy saving bulb that comes even close to being that bright. They also don't even last much longer than ordinary bulbs - I've had a couple that didn't even last as long as an old-fashioned bulb, so considering the high price they cost to buy I don't think they're saving me any money at all.
Red Dog
- 9-Feb-20 @ 3:44 PM
Yes they are OK just for one of the ' saving' halogen light bulb I get about 5-6 normal ones so no thank you I don't mind a normal bulb
gasper6201
- 5-Jan-18 @ 9:28 PM
Surely the maximum power permissible is still 100W.It has to do with the rate that heat is produced, not the equivalent light output?