Water Saving Devices Explained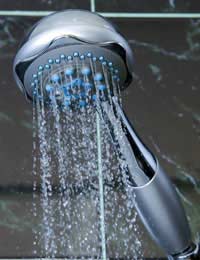 Demand for water is on the increase. The average person in the UK uses 150 litres of water every day and that is almost 50 per cent more than 25 years ago. Yet water is at more of a premium in this country, with only 1,334 cubic metres (m3) per person a year available in England and Wales compared to 3,065m3 in France, 2,785m3 in Italy and 2,775m3 in Spain. The relative shortage is even more acute in south east England, which has only 266m3 per person due to its low rainfall and high population density.
The environment suffers as water usage in homes increases, because it means there is less in lakes, rivers and natural wetlands. When water levels in rivers fall, fish can die through lack of oxygen, while food sources and breeding sites for birds can be lost. Also, energy is needed to treat and heat domestic water. The more water used, the more energy is needed, generating greenhouse gases and contributing to global warming.
Bye-Bye Bathtime
Fortunately, plenty of measures can be taken to save water in the home. In general, it is better to take a shower instead of a bath, as a five-minute shower uses only a third as much water. Try to avoid power showers, however, as they pump out enough water to fill a bath in under five minutes. An extra 30 per cent water saving can be made by fitting a water-efficient shower head, but do not fit these to electric showers as it can cause water to overheat.
It is important to get faulty plumbing fixed as soon as possible, as a tap that drips just twice every second will waste 26 litres of water in a day. For a few pence a new washer can solve the problem and it can be fitted in minutes. Aerators, which mix air with water, or spray ends can be fitted to washbasin taps to cut water consumption by up to 50 per cent. Also consider lagging outside pipes, as this will reduce the risk of burst pipes and leaks in cold weather.
That Sinking Feeling
There is a common misconception that washing up in a sink uses less water than a dishwasher. A modern dishwasher can use as little as 10 litres of water per cycle, while daily washing up by hand typically uses about 63 litres and if dishes are rinsed under a running tap the total can be 150 litres. A good washing machine will use less than 50 litres per cycle and both dishwashers and washing machines should be fully loaded before running, as half-load cycles use comparatively more energy and water.
Flushing the toilet accounts for more than a third of all household water usage, but low flush or dual flush WCs use around a third less. Water displacement devices can be installed in the cistern of older toilets and will reduce the amount of water used for each flush by one or two litres. Use a watering can instead of a hose to water the garden, and consider buying a water butt to collect rain water for plants. These measures will help the environment and, for those households using water metres, reduce bills.
You might also like...